OBSESSIVE - 853-CHE-1 CHEMISE
312
με ΦΠΑ
Παράδοση 1-3 Εργάσιμες Ημέρες
Ασφαλείς Πληρωμές
Άμεση Αποστολή και Παράδοση σε 1-3 ημέρες
100% Γνήσια Προϊόντα
Take action – get this amazing chemise and use your power of attraction! It will give you a perfect look, great comfort and plenty of feminine appeal. Can you see this fantastic moment in your imagination? Yes, it will become real. Are you ready? Feel very sexy and… charm your lover!
Discover all details:
Incredibly feminine chemise with lacy adornment
Underwire, padded bra – accentuated breasts!
Lace cups with beige material – perfectly adorned bust
Adjustable straps – easy to fit - smooth, elastic fabric guarantees full wearing comfort
Lace bottom – accentuated hips
Product includes chemise and black thong
Delicate, soft material (94% polyamide, 6% elastane)
Size: S/M
Obsessive means inspiration for women. Elegance,sensuality, embroidery love ... Best fabrics and best embroideries to create unique pieces of lingerie. Years working to join the best quality - prize relation. World leaders in lingerie! Nobody makes it better!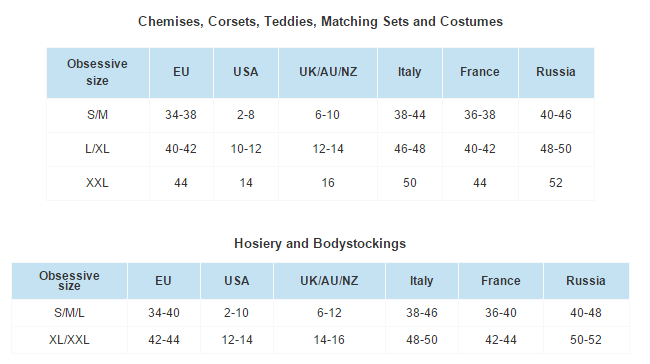 13 ακόμα προϊόντα στην ίδια κατηγορία: