Obsessive 870-SET-3 Sexy Set Red
121
με ΦΠΑ
Παράδοση 1-3 Εργάσιμες Ημέρες
Ασφαλείς Πληρωμές
Άμεση Αποστολή και Παράδοση σε 1-3 ημέρες
100% Γνήσια Προϊόντα
Sexy look? You know how to get it. Put on this tempting set and go to your bedroom. Can you feel love in the air? The atmosphere is getting hot? It's time to begin! Have a great time with your beloved!
Discover all exciting details:
Adorable set made out of see-through mesh and lace
Bra with adjustable straps and adjustable fastening on the back – Did2Fit – perfect fitting guaranteed
Halter-neck fastening
Soft, triangle cups – bust looks fantastic
Vertical seams emphasize breasts
Eyelash lace – trimmed with coquettish "lashes"
Bows and shiny jewels – charming adornment
Set includes bra and thong
Nice, elastic fabric (94% polyamide, 6% elastane)
Size: L/XL 
Obsessive means inspiration for women. Elegance,sensuality, embroidery love ... Best fabrics and best embroideries to create unique pieces of lingerie. Years working to join the best quality - prize relation. World leaders in lingerie! Nobody makes it better!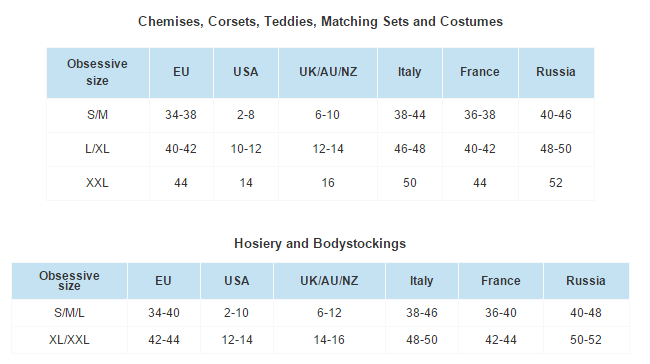 15 ακόμα προϊόντα στην ίδια κατηγορία: